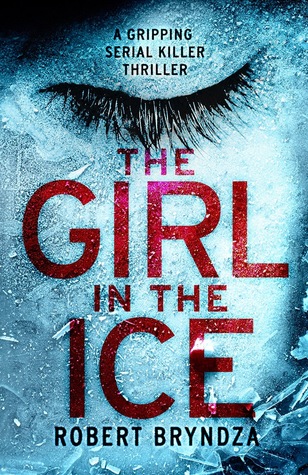 Title:
The Girl in the Ice
Author:
Robert Bryndza

Publisher:
Bookouture

Read:
April 2016


Synopsis (Goodreads):
Her eyes are wide open. Her lips parted as if to speak. Her dead body frozen in the ice…She is not the only one.

When a young boy discovers the body of a woman beneath a thick sheet of ice in a South London park, Detective Erika Foster is called in to lead the murder investigation.

The victim, a beautiful young socialite, appeared to have the perfect life. Yet when Erika begins to dig deeper, she starts to connect the dots between the murder and the killings of three prostitutes, all found strangled, hands bound and dumped in water around London.

What dark secrets is the girl in the ice hiding?

As Erika inches closer to uncovering the truth, the killer is closing in on Erika.

The last investigation Erika led went badly wrong… resulting in the death of her husband. With her career hanging by a thread, Erika must now battle her own personal demons as well as a killer more deadly than any she's faced before. But will she get to him before he strikes again?

A page-turning thriller packed with suspense. If you like Angela Marsons, Rachel Abbott and Karin Slaughter, discover Rob Bryndza's new series today – at a special launch price.

Watch out for more from DCI Erika Foster

She's fearless. Respected. Unstoppable. Detective Erika Foster will catch a killer, whatever it takes.

1. THE GIRL IN THE ICE
2. THE NIGHT STALKER (COMING SOON)



My thoughts:
I am so happy I "discovered" this new series (thanks to Netgalley and the publisher), because The Girl in the Ice is a cracking read with an interesting protagonist, who I hope will feature in many more novels yet to come.
When the young socialite daughter from a rich influential family is found murdered and frozen into the ice of a popular swimming spot in South London, DCI Erika Foster is called in to investigate. With a tragic past behind her, Erika is still emotionally raw but determined to put her own feelings aside to solve the case and bring the murderer to justice, especially when she discovered that the same person may have been responsible for the brutal killings of other young women. Feeling that she has little to lose, she is not afraid to defy institutional and political restraints, which she feels jeopardise her investigation. But in the political fray which surrounds the case, she soon finds herself not only fighting for her career but also for her life as a ruthless killer will stop at nothing to silence her ....
Brynza has done an excellent job with his debut suspense novel, and has delivered true-to-life characters I want to see a lot more of. I loved DCI Foster, who makes for an interesting kick-ass protagonist – with personal demons from a tragic past and a different cultural background, she has had her own share of obstacles to overcome to be in her position. As much as she can be cold and aloof, her humanity shines through in her interactions with the people around her – Brynza has achieved exactly the right mix of vulnerability and strength which make her a character to both admire and like. I also want to read a lot more about the supportive characters, especially as we were only allowed glimpses into their lives – Moss, Marsh, Peterson and Sparks. The storyline gripped me from the very start and I found it very difficult to tear myself away. And just when I thought I was on the right track to solving this mystery, the author brought it all to a breath-taking and totally unexpected finale. Brilliant!
I love a good murder/mystery and with so many good books out there, it takes a bit to impress me. And impressed I certainly was! This definitely belongs in my favourites list for this year so far, and I want to read a lot more from this author in future. I am very happy to hear that the sequel, "The Night Stalker", will be released later this year.
This is a must-read for fans of police procedural such as S.J, Bolton's
Lacey Flint
series, or Jane Casey's
Maeve Kerrigan
novels. Very highly recommended.
Thank you to Netgalley and the publisher for providing me with a free electronic copy of this novel in exchange for an honest review.