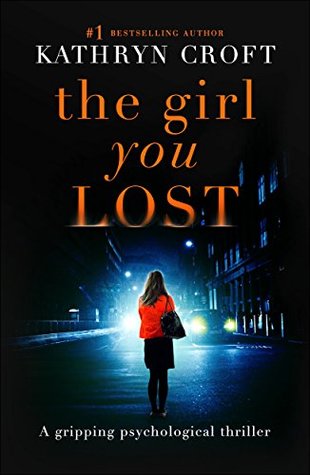 Title:
The Girl You Lost
Author:
Kathryn Croft

Publisher:
Bookouture

Read:
January 2016
Expected publication:
5 February 2016



Synopsis (Goodreads):

Eighteen years ago, Simone Porter's six-month-old daughter, Helena, was abducted. Simone and husband, Matt, have slowly rebuilt their shattered lives, but the pain at losing their child has never left them.

Then a young woman, Grace, appears out of the blue and tells Simone she has information about her stolen baby. But just who is Grace – and can Simone trust her?

When Grace herself disappears, Simone becomes embroiled in a desperate search for her daughter and the woman who has vital clues about her whereabouts.

Simone is inching closer to the truth but it'll take her into dangerous and disturbing territory.

Simone lost her baby. Will she lose her life trying to find her?
My thoughts:
For 18 years Simone Porter has struggled to put the abduction of her then 6-months old daughter Helena behind her and get on with her life, forging a career as a successful journalist whose empathy for parents with missing children nets her some interesting and heart wrenching stories. One day a young woman, Grace, knocks on her door, claiming that she has received information from a friend that makes her believe she might be Helena, Simone's missing child. But before Simone can confirm whether the girl's claim is true or not, Grace also disappears without a trace, and Simone is facing heartbreak and uncertainty all over again ....
I loved the premise of the story and was very excited to receive a copy from the publisher for an honest review. Unfortunately though the book did not grip me or deliver for me, for various reasons. Loathe to imagine the heartbreak a parent would face on losing a child in such horrible circumstances, I found Simone to be rather unemotional and rational on being faced with a girl who might be her long-lost daughter. And if her actions seemed out of character, the people around her also tended to act in a manner that was unconvincing and often bordering on the bizarre (some eye rolls and "yeah right"s being exclaimed quite regularly as I read on). This made me soon lose interest in the story as I struggled to connect to any of the characters or care what happened to them. For me, the story lacked credibility and emotional depth, and I found myself skipping pages just to get to the end and find out the answers. Sadly not the right book for me, but judging on other reviews many readers did enjoy it, so I will not give any spoilers and let people judge for themselves.
Thank you to Netgalley and the publisher for providing me with a free electronic copy of this novel in exchange for an honest review.