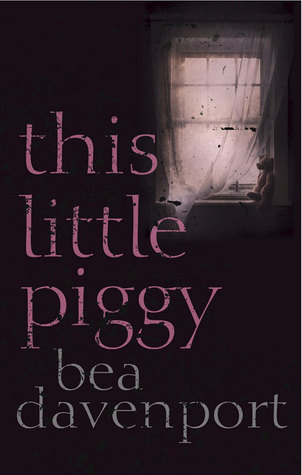 Title:
This Little Piggy
Author:
Bea Davenport

Publisher:
Legend Press

Read:
March 2015

Available from:
October 2014
Synopsis (Goodreads):
It's the summer of 1984 and there is a sense of unease on the troubled Sweetmeadows estate. The residents are in shock after the suspicious death of a baby and tension is growing due to the ongoing miners' strike. Journalist Clare Jackson follows the story as police botch the inquiry and struggle to contain the escalating violence. Haunted by a personal trauma she can't face up to, Clare is shadowed by nine-year-old Amy, a bright but neglected little girl who seems to know more about the incident than she's letting on. As the days go on and the killer is not found, Clare ignores warnings not to get too close to her stories and in doing so, puts her own life in jeopardy.
My thoughts:
It is 1984 and England is in the grip of a miners' strike making headlines around the country. In a poor housing estate a nine months old baby is killed by a fall from a balcony, and fould play is suspected. Is it the work of unionists paying back the father for being a strike breaker? Or is there a madman on the loose? Clare Jackson, a young gutsy reporter who was cheated of her position as chief reporter by a cruel twist of fate, takes it upon herself to infiltrate both sides and gain some interesting insights into the circumstances surrounding baby Jamie's death. Many of Clare's most interesting leads come from nine-year old Amy, who lives on the estate and has taken a liking to Clare. But does Amy know more than she lets on?
I really loved the 1980's setting of the novel - with its gutsy protagonist it reminded me a bit of Sue Grafton's Kinsey Millhone mysteries, and I can see Clare solving a lot more crimes in future novels. Without the convenience of the internet and mobile phones it is up to Clare's sheer determination and hard work to follow her leads and produce interesting stories for the local paper. With hints at a recent tragedy in her personal life it soon becomes clear why she feels so drawn to the young waif Amy, with consequences Clare could not have imagined.
The author really captures the atmosphere of the time and the emotions surrounding the miner's strike. Sweetmeadows Estate was brought to life so vividly that I could almost smell the despair, the poverty, the hopelessness.


Whilst the ending did not come as a complete surprise I still felt saddened by many aspects of it and wished it had ended differently for all characters involved. There were some parts which dragged a bit, and could have benefited from a bit tighter editing, but all in all the story drew me in and kept me reading. I felt I really warmed to Clare and would like to see her back in action chasing her byline.
Thank you to Netgalley and the publisher for providing me with a free electronic copy of this novel in exchange for an honest review.