READING SLUMP
That period of time when you when you don't feel motivated to read anything and you're so disgusted with yourself.
Blame it on the nightshift blues, but for the last week I have been experiencing the most awful reading slump. I started and abandoned several books, finding myself unable to engage with the characters or concentrate on the action. And since reading is usual my cure-all for everything, this has been a truly terrible situation! I have even resorted to vacuuming my car and contemplating window cleaning to fill my reserved-for-reading time, which surely is a sign of madness. Luckily the urge passed as soon as I filled the bucket with warm soapy water, but it was a close call!
So, what to do about this frightening malaise? I thought I might reflect on some of my most anticipated new releases coming to us in 2018 to get myself back into the reading mood. Expect your TBR pile to get a lot bigger, as there are some fantastic books on the cards for this year!
5 of my most anticipated new releases in 2018:
The Craftsman, by Sharon J. Bolton:

5th April 2018
Sharon Bolton is one of my all-time favourite authors, who always delivers a suspenseful, multi-layered mystery that sucks you in immediately and grips you to the very end. If you haven't discovered her yet, then you are really missing out!
Blurb:
August, 1999
On the hottest day of the year, Assistant Commissioner Florence Lovelady attends the funeral of Larry Glassbrook, the convicted murderer she arrested thirty years earlier. A master carpenter and funeral director, Larry imprisoned his victims, alive, in the caskets he made himself. Clay effigies found entombed with their bodies suggested a motive beyond the worst human depravity.
June, 1969
13-year- old Patsy Wood has been missing for two days, the third teenager to disappear in as many months. New to the Lancashire police force and struggling to fit in, WPC Lovelady is sent to investigate an unlikely report from school children claiming to have heard a voice calling for help. A voice from deep within a recent grave.
August, 1999
As she tries to lay her ghosts to rest, Florence is drawn back to the Glassbrooks' old house, in the shadow of Pendle Hill, where she once lodged with the family. She is chilled by the discovery of another effigy - one bearing a remarkable resemblance to herself. Is the killer still at large? Is Florence once again in terrible danger? Or, this time, could the fate in store be worse than even her darkest imaginings?
Day of the Dead, by Nicci French:

24th July 2018
The Frieda Klein series is one of my all-time favourite mystery series by the great author duo who call themselves Nicci French, and the final book is due to being released this year. Finally, we may find out if Frieda is able to free herself of her stalker Dean Reeve. If you haven't discovered this great series yet, there is still time to read the previous seven books in the series before this one comes out in July!
Blurb:
A decade ago, psychologist Frieda Klein was sucked into the orbit of Dean Reeve -- a killer able to impersonate almost anyone, a man who can disappear without a trace, a psychopath obsessed with Frieda herself.

In the years since, Frieda has worked with -- and sometimes against -- the London police in solving their most baffling cases. But now she's in hiding, driven to isolation by Reeve. When a series of murders announces his return, Frieda must emerge from the shadows to confront her nemesis. And it's a showdown she might not survive.

This gripping cat-and-mouse thriller pits one of the most fascinating characters in contemporary fiction against an enemy like none other. Smart, sophisticated, and spellbinding, it's a novel to leave you breathless.
Us Against You, by Fredrik Backman: 5th June 2018
Beartown was one of my favourite books of 2017 - I laughed, I cried, and it stayed with me for a long time afterwards. If you haven't picked up this little gem already, then you are really missing out. Imagine my happy dance to hear that there will be a sequel this year!
Blurb:
After everything that the citizens of Beartown have gone through, they are struck yet another blow when they hear that their beloved local hockey team will soon be disbanded. What makes it worse is the obvious satisfaction that all the former Beartown players, who now play for a rival team in Hed, take in that fact. Amidst the mounting tension between the two rivals, a surprising newcomer is handpicked to be Beartown's new hockey coach.

Soon a new team starts to take shape around Amat, the fastest player you'll ever see; Benji, the intense lone wolf; and Vidar, a born-to-be-bad troublemaker. But bringing this team together proves to be a challenge as old bonds are broken, new ones are formed, and the enmity with Hed grows more and more acute.

As the big match approaches, the not-so-innocent pranks and incidents between the communities pile up and their mutual contempt grows deeper. By the time the last game is finally played, a resident of Beartown will be dead, and the people of both towns will be forced to wonder if, after all they've been through, the game they love can ever return to something simple and innocent.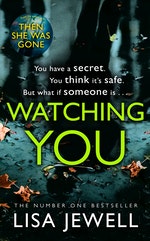 Watching You, by Lisa Jewell:

15 June 2018




Everything by Lisa Jewell is automatically on my must-read list - I simply love her books! Every one of them features some complicated family relationships, and they make for compulsive reading. Lately, Jewell has been delving more and more into the dark corners of the human psyche, and I love it!



Blurb:
Joey Mullen is thirty-six and living in her twin brother's attic in Bristol's exclusive Melville Heights with her much younger boyfriend. She's just returned to the UK after ten years partying hard abroad, and now she's having something of a mid-life crisis.

Then one day she sees Tom Fitzwilliam - a handsome older man who lives two doors down and she's surprised to feel a sharp attraction for him. As the weeks pass, this grows until an innocent crush has developed into a dangerous infatuation that begins to threaten her sanity.

Six months later Tom's wife is found strangled to death in a school playing field, and Tom's teenage son Freddie points the finger straight at Joey. Because while Joey's been watching Tom, Freddie has been watching Joey and he knows exactly what she's been up to.

But Nicola's death is not what it seems, and it soon transpires that there are some even darker secrets hiding behind the closed doors of Melville Heights.
Let Me Lie, by Clare Mackintosh:

13 March 2018
With her background as a police officer, Clare Mackintosh has insider knowledge to use in her compulsive psychological thrillers, and she is the queen of the killer twist! I have been impatiently waiting for her to write another novel, and did a happy dance when I heard that her latest book will be out in March. If you love a good psychological thriller and a great twist and haven't discovered this author yet, then I urge you to rush out and pick up I Let You Go and I See You ASAP.
Blurb:
The police say it was suicide.
Anna says it was murder.
They're both wrong.


One year ago, Caroline Johnson chose to end her life brutally: a shocking suicide planned to match that of her husband just months before. Their daughter, Anna, has struggled to come to terms with their loss ever since.

Now with a young baby of her own, Anna misses her mother more than ever and starts to question her parents' deaths. But by digging up their past, she'll put her future in danger. Sometimes it's safer to let things lie…
It is working! I can feel my excitement grow as I share these upcoming titles with you all. Happy reading!