I'm usually so busy with writing reviews for ARCs that my audiobooks come off as the poor second cousins and often don't make it onto my blog. This is a shame, since I often pick the books that are on top of my really-really-must-read list to keep me company during the long hours I spend driving. So I thought: why not write a quick monthly recap of the audiobooks I have been enjoying?
These were my commute-companions during March and April:
Narrated by Joan Walker
What an utterly delightful read! I am very grateful for having stumbled across Shelleyrae's review of this book on her blog "Book'dOut", which initially made me put it on my to-read-list. My only regret is not having picked it up a lot sooner! A Man Called Ove is easiest one of the best books I have read all year, and one that will definitely make it on my all-time-favourites list. Told with both humour and wisdom, it follows the story of a 59-year-old Swedish man called Ove, who has recently lost his wife and his job and decided that life is no longer worth living. Always considered a somewhat taciturn and grumpy old man by his neighbours, Ove is sure he won't be missed by anyone, and makes his plans for a clean exit from this life. But one by one all his plans are foiled by the arrival of new neighbours next door - a pregnant "foreign woman", her tall lanky husband and their two little girls, who will not accept that Ove wants to be left alone.
Written with laugh-out-loud humour as well as tender insights into his characters' lives, Backman instantly drew me into the storyline and made my daily commute richer as I laughed, cried and pondered the meaning of life, love and death with Ove. Very highly recommended. I absolutely adored it!
PS: whilst Joan Walker does a good job narrating, I would have preferred a male narrator, seeing that Ove is our central character and the story is told from his perspective.
Narrated by Penelope Rawlins
With her life in ruins after a scandal that wrecked her marriage and cost her her job, historian and TV presenter Allis Hagtorn leaves it all behind and takes on the position as housekeeper for 44-year-old Sigurd Bagge, a mysterious reclusive man living in a small cottage in the rugged Norwegian countryside. Far from town and without transport except a bicycle at her disposal, Allis throws herself into the housekeeping and gardening chores expected of her whilst Bagge's wife is away. But when time goes by and the woman fails to materialise, Allis slowly falls more and more under her employer's spell, trying to appease his labile moods. What follows is an account of a dysfunctional and somewhat obsessive love affair, its claustrophobic atmosphere enhanced by the remote setting and a sense of menace and danger always hovering in the background. What really happened to Bagge's wife?
The Bird Tribunal is a slow-burning mystery with very little action and only two central characters to drive the story, which worked well in some parts but dragged a bit in others. Whilst I enjoyed the tension underlying the story and really liked Allis as a character, I found that the strange "dance" between the two main protagonists became a bit repetitive, and I longed for a bit more action or a twist to move things along. However, I loved the claustrophobic and atmospheric armchair-travel setting, and the mystical component of Norse mythology interspersing the story. I am definitely interested to read more from this author in future.
Narrated by Kate Rawson
After losing both her parents in quick succession, Bella Campbell's life is further turned upside down when she reads a letter left to her by her father, which tells her that she is not Henry and Elaine Campbell's biological daughter, but that her "real" family lives in Cornwall. Having grown up cloistered in an old vicarage, home-schooled and without any family and friends other than her parents, Bella has never had the opportunity to truly grow up. Instead, she married a much older man who took over from her mother, controlling everything Bella does, from the food she eats to the clothes she wears. Now that all she has ever believed to be the truth has gone up in smoke, Bella must rise out of the ashes and set off on her own to discover her true origins – and ultimately discover herself.
In Her Wake had an intriguing premise, which soon drew me into the storyline. However, this is NOT a psychological thriller. Whilst there is an element of mystery in the story, the reader finds out the truth very early on, and what follows is a slow-burning family drama of family members re-united after years apart, and the struggles they face in getting to know one another and overcoming the trauma of the past. The setting on the Cornish coast was atmospheric and added a wonderful armchair-travel element that brought the story to life for me, and I enjoyed the emotional turmoil Bella finds herself in and her journey of self-discovery. However, at times I found the story a bit slow and repetitive and thought it needed a bit of editing to move things along (especially Bella's "dreams", which really added nothing to the story for me). I found myself waiting for bit more action or an element of surprise to spice things up, which did not eventuate.
Currently listening to: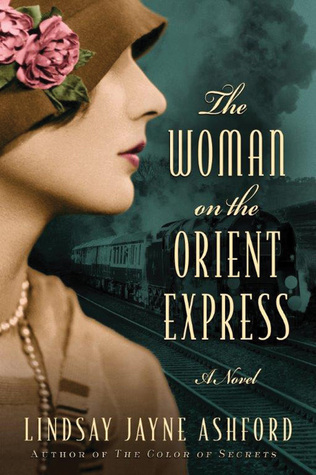 The Woman on the Orient Express
, by
Lindsay Jayne Ashford