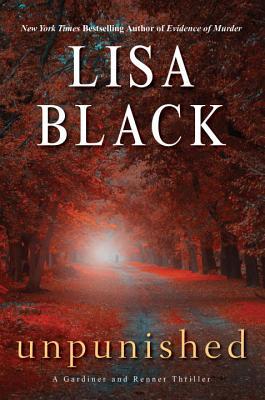 Title:
Unpunished
Author:
Lisa Black

Publisher:
Kensington Publishing Corporation

Read:
January 2017
Expected publication:
31 January 2017


Synopsis (Goodreads):

It begins with the kind of bizarre death that makes headlines literally. A copy editor at the Cleveland Herald is found hanging above the grinding wheels of the newspaper assembly line, a wide strap wrapped around his throat. Forensic investigator Maggie Gardiner has her suspicions about this apparent suicide inside the tsunami of tensions that is the news industry today and when the evidence suggests murder, Maggie has no choice but to place her trust in the one person she doesn t trust at all .

Jack Renner is a killer with a conscience, a vigilante with his own code of honor. In the past, Jack has used his skills and connections as a homicide detective to take the law into his own hands, all in the name of justice. He has only one problem: Maggie knows his secret. She insists he enforce the law, not subvert it. But when more newspaper employees are slain, Jack may be the only person who can help Maggie unmask the killer-- even if Jack is still checking names off his own private murder list."
My thoughts:
Unpunished is the second book in the Gardiner and Renner series, featuring crime scene technician Maggie Gardiner and detective-by-day and vigilante-by-night Jack Renner, who are asked to investigate the death of the copy editor of the Cleveland Herald, a large daily newspaper on the brink of bankruptcy. What first appeared to be a suicide soon turns into a murder investigation, with more bodies stacking up as the story progresses. What could be the motive behind killing the employees of a struggling newspaper?
Unpunished is a slow-moving police procedural, focusing heavily on the technical details of Maggie's forensic work and the background story of the demise of the newspaper industry in our age of technology, which I generally found interesting but which at times slowed the story down to a point where I felt like skipping pages just to get on with it. I felt it needed a bit of careful editing at this point to keep up the pace. The narrative didn't really grip me until Chapter 14, at which point there were enough bodies and unanswered questions hanging in the air for it to be intriguing.
When I requested Unpunished from Netgalley I was unaware that it was the second book in a series, and was somewhat puzzled by the references to Maggie and Jack's shared secret past, which play a prominent part in the investigation and colour their professional relationship. Whilst Unpunished is a stand-alone novel as far as the plot is concerned, it took me a long time to work out the gist of the "secret" that binds Maggie and Jack together. Not fully understanding the dynamics between the duo somewhat marred my reading pleasure, though paradoxically it also served to keep me interested, especially since Maggie is prepared to sacrifice her professional integrity to tamper with evidence in order to help Jack. Why, why, WHY? Unfortunately, these questions were not fully answered here – I guess I will have to read the first part of the series – and Jack kept to the straight and narrow for the best part, not showing his true vigilante side the book hints at. Personally, I found the story lacking in suspense and an emotional bond with the main protagonists, who seemed to keep me at arms' length at all times. I would have liked to get more of a feel for both Maggie and Jack, and the forces that drove them, in order to be able to picture them in my mind and care about them. All in all, I found Unpunished well written and researched, with an interesting background story and well constructed plot. Perhaps, had I read the first book in the series, Unpunished would have gripped me a bit sooner and held my attention a bit better. As a stand-alone novel, it just lacked an emotional connection for me, though I am intrigued enough by the character of Jack to pick up That Darkness to see what I missed.
Thank you to Netgalley and the publisher for providing me with a free electronic copy of this novel in exchange for an honest review.