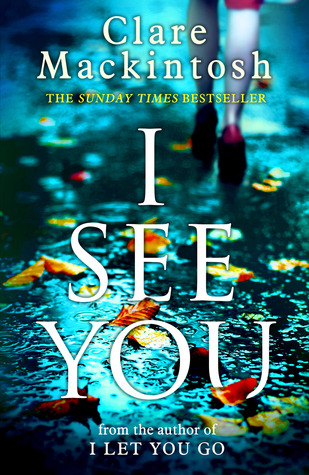 Title:
I See You
Author:
Clare Mackintosh

Publisher:
Hachette Audio

Read:
September 2016

Synopsis (Goodreads):

You do the same thing every day.

You know exactly where you're going.

You're not alone.

When Zoe Walker sees her photo in the classifieds section of a London newspaper, she is determined to find out why it's there. There's no explanation: just a website, a grainy image and a phone number. She takes it home to her family, who are convinced it's just someone who looks like Zoe. But the next day the advert shows a photo of a different woman, and another the day after that.

Is it a mistake? A coincidence? Or is someone keeping track of every move they make . . .

I See You is an edge-of-your-seat, page-turning psychological thriller from one of the most exciting and successful British debut talents of 2015.

My thoughts:
Z
oe Walker is an ordinary woman with an ordinary life – mother of two grown kids, wife to Simon, living in an ordinary little house in an average London neighbourhood, working an averagely paid job in a real estate firm and commuting to work every day on public transport. Zoe is the type of woman who blends in - you may see her across from you on the train but won't give her a second glance. So it is with surprise and shock that Zoe finds her blurry picture in the dating / escort section of the local paper one day. Who put it there, and what does it mean? Little does she know that this is only the beginning of a journey that will derail her life, threaten her family and destroy her perfectly ordinary routine forever ....
What a brilliant premise for a psychological thriller – that your ordinary daily habits could make you a target for murder. I loved it! Having commuted on public transport many moons ago, I could instantly relate to the author's observations that people are creatures of habits. Yes, I did board the train on the same spot on the platform every day and tried to sit in the same seat. My timing seldom varied and I saw the same people on the same train every day of the week. I felt safe in my routine. How wrong I was! Suddenly I don't feel so inclined to park in the same favourite parking spot at work every day – because Mackintosh has sown a little seed of doubt and vulnerability deep into my psyche. I love it when authors come up with a brilliant original idea that makes their story stick out from the rest and touches their readers' lives, infiltrates their thoughts. Will I ever be able to board a train without thinking that someone, somewhere is watching my every move? Probably ... but on occasions a little voice will be in my head, whispering menacingly: "I see you!" And the hairs will go up on the back of my neck ....
I loved this book in every way and it is one of my favourite reads of the year. I See You is original and clever, with everyday ordinary characters I could relate to. Yes, there were a few moments of suspending disbelief in the later parts of the story, but in a way that enhanced the suspense because the slow escalation befitted the characters involved. The pace was perfect and steadily built a sense of urgency until its gripping finale – from its slow beginnings recounting Zoe's mundane everyday life to the hidden dangers lurking in that very same boring routine. And just when you think yourself safe, the author throws in a curveball at the end – I take off my hat to you, Clare Mackintosh, I did not see that one coming! In an era where weird twists are all the rage, this one actually works. I still have goosebumps thinking about it.
All in all, this is a must read for all lovers of mystery and suspense who want to read a gripping psychological thriller with a twist. I listened to the audio version of the book on my daily commute (oh, the irony of that!) and was so engrossed in the story most of the time that I was surprised to find myself at my destination – how did I get there? This was one hell of a ride, and one I can fully recommend to everyone who likes the genre. I look forward to the next great read from this author.