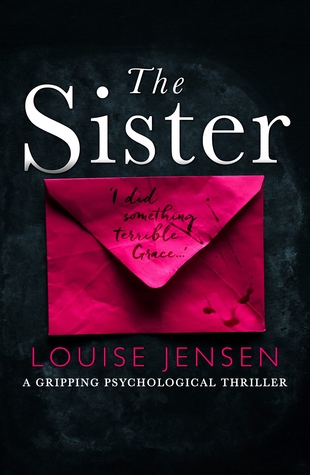 Title:
The Sister
Author:
Louise Jensen

Publisher:
Bookouture

Read:
July 2016


Synopsis (Goodreads):

Grace hasn't been the same since the death of her best friend Charlie. She is haunted by Charlie's words, the last time she saw her, and in a bid for answers, opens an old memory box of Charlie's. It soon becomes clear there was a lot she didn't know about her best friend.

When Grace starts a campaign to find Charlie's father, Anna, a girl claiming to be Charlie's sister steps forward. For Grace, finding Anna is like finding a new family, and soon Anna has made herself very comfortable in Grace and boyfriend Dan's home.

But something isn't right. Things disappear, Dan's acting strangely and Grace is sure that someone is following her. Is it all in Grace's mind? Or as she gets closer to discovering the truth about both Charlie and Anna, is Grace in terrible danger?

There was nothing she could have done to save Charlie ...or was there?

My thoughts:
At a young age, Grace has already had to deal with a lot of grief and loss, and the guilt that comes with it. After the sudden death of her father at the age of 9 and her forced move out of the family home into the care of her grandparents, it was the friendship with Charlie that sustained her and gave her the sister she never had. But now Charlie is dead, too, and Grace feels more alone than ever. Her marriage to Dan is struggling under the weight of her grief and they have become like strangers living under the same roof. Until one day a stranger appears on her doorstep, claiming to be Charlie's half-sister. Can Anna fill the void Charlie has left in Grace's heart? It is not until things start going wrong in Grace's life that she has to face up to Dan's claim that there is more to Anna than meets the eye ....
A clever debut novel, even if the reader will work out what is going on much sooner than Grace does, which makes for a bit of frustration which isn't necessarily a bad thing, as we want to shake Grace and yell at her to finally see what is there right in front of her. I enjoyed the character of Grace and found her naiveté in the face of past trauma and guilt believable if sometimes a bit frustrating. She makes the perfect protagonist for a psychological thriller in which people play games with one another, simply because she is so blinded by her past and so needy for love that her slow descent into the traps spun by those around her is inevitable. Since the author freely shares all of Grace's feelings, anxieties and deep-rooted fears, it is easy to relate those to her actions. There were a few threads which didn't quite add up for me, and at times the pace was a bit slow, but otherwise I enjoyed the journey.
The story is told in a dual time frame, switching back and forth from Grace's past ("Then") to the present ("Now") and opening with the intriguing scene of Grace digging for the memory box her best friend Charlie buried as a child, making Grace promise not to look until they are both adults. It is not until very much later in the book that we learn what has happened to Charlie, and I enjoyed the slow unravelling of the mystery. However, the downside of this format is that the "Then" chapters can dilute the tension building in the "Now" sections and slow down the action, which was a bit of an issue here, as there was a lot of reflecting and re-telling of Grace's childhood, some of which could have been edited out without losing any of the necessary information. Also, the final reveal of the secrets inside the memory box turned out to be a bit of a let-down for me, and I think there was a lot more potential for that part of the story to grab the reader's attention and throw a real curveball into the mix. In saying that, the ending certainly had that crucial element of surprise which put a new light on events in the novel. All in all I enjoyed the story and look forward to reading more from this author in future.
Thank you to Netgalley and the publisher for providing me with a free electronic copy of this novel in exchange for an honest review.