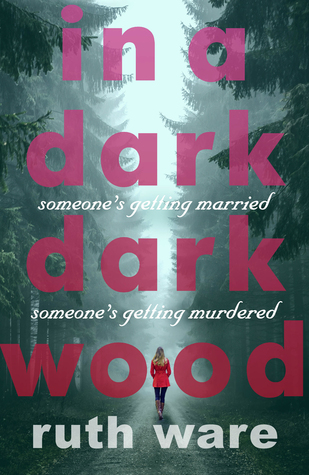 Title:
In a Dark, Dark Wood
Author:
Ruth Ware

Publisher:
Random House UK, Vintage Publishing

Read:
May 2015
Expected publication:
July 30, 2015



Synopsis (Goodreads):

In a dark, dark wood

Nora hasn't seen Clare for ten years. Not since Nora walked out of school one day and never went back.

There was a dark, dark house

Until, out of the blue, an invitation to Clare's hen do arrives. Is this a chance for Nora to finally put her past behind her?

And in the dark, dark house there was a dark, dark room

But something goes wrong. Very wrong.

And in the dark, dark room....

Some things can't stay secret for ever.


My thoughts:
26-year old Leonora Shaw, a published crime writer living a quiet life in London, is surprised and a little bit anxious when an email arrives in her inbox inviting her to the hen do of an old friend whom she hasn't seen for 10 years. Reluctantly, she agrees to go, partly out of a strange sense of guilt about having lost touch with her former best friend from school and partly because Nina, another old friend she still sees occasionally, has also been invited. In the end, only six people arrive for the weekend, set in a lonely holiday house in the woods in Northumberland. It soon becomes obvious that nobody except the weekend's organiser, Clare's devoted and somewhat volatile friend Flo, really wants to be there. Relationships are strained, tempers short, and the weekend's "fun activities" never quite seem to cut through the tension. In the isolated setting cut off from all phone and internet contact it doesn't take long for people to feel cut off and trapped and for conflict to brew. Nora can't wait to leave – but before she can make her getaway, things start to go very very wrong .....
Despite the theme of hen dos and 20-something year old women's peer group issues, which didn't sound like my thing, In a Dark, Dark Wood grabbed me very quickly, drew me into the storyline and kept me interested until the final reveal. With its claustrophobic setting and atmospheric writing skilfully capturing the isolated forest setting, it made the perfect winter read curled up in front of the fire and feeling shivers down my spine as friendships become strained and events slowly but irrevocably spiral out of control. The author did an excellent job in building up tension: from the very first meeting of the disparate group of old friends and strangers whose only common denominator is Clare it is clear that there will be trouble. Then all phone contact is lost. Night falls, darkness closes in, tension rises. One of the friends makes a reference to the old Agatha Christie classic "Ten Little Indians", and the comparison fits – a group of people each harbouring their own secrets and agendas trapped in an isolated house with things spiralling out of control. So who will die? And who will have done it? You will need to read it to find out.
Whilst the themes presented in the novel are not unusual and follow quite traditional guidelines of friendships gone wrong, In a Dark, Dark Wood is well executed and manages to build tension through a clever dual-timeline setting, switching from Nora's present predicament of waking in a hospital room guarded by police to her memories of the events of that fatal weekend away. Despite the somewhat stereotypical theme of a key character suffering amnesia, which can be very convenient for the author enabling them to reveal events at a pace that suits the story but annoying for the reader, I felt that here it was not overdone and served to add to the tension and the final reveal. I also loved the author's insights into toxic friendships and the dynamics of women's peer groups carried over from childhood into adulthood, with all the little jealousies and ways to hurt each other. The setting itself, a modern house built of glass and steel set in a somewhat dark and menacing forest setting, added to the atmosphere and I felt that the author could have used this even more to add an extra "creepiness factor".
Whilst I had a strong suspicion as to the identity of the killer quite early on, Ware added enough twists and turns to add extra layers of suspense that kept me interested. I was a bit disappointed in one really stupid decision Nora makes towards the end, which I felt was out of character for her, but which is a spoiler I do not want to give away here. However, despite this small niggle I really enjoyed Ware's debut novel and think she is definitely a new voice to watch in the genre of psychological suspense – I hope there will be many more novels to come.
Thank you to Netgalley and the publisher for providing me with a free electronic copy of this novel in exchange for an honest review.